Pre-register for FREE, with no obligation, for this limited pre-launch period.
"Discover How A New Idea Combining Online Gaming, Network Marketing, and Social Networking Will Help You Make Loads Of Cash Just For Playing Online Skill Based Games With Friends!"

A small sample of the available games shown above.
How do you make money with uVme?
We have created a powerful, unique business with which you can earn money in several different ways. As you build your team of players, you can also create a team of Associates to boost your earnings even more. You can earn:
Game Revenue – each time a game is played, you get paid
Fast Start Bonus – for each personally sponsored Associate who becomes "active"
Instant Pay – you get paid instantly
Power Pool Revenue Share – 8% of company turnover shared out with you
100% Matching Bonus – gives you a matching income from every one of your personally sponsored "active" Associates
Group Generation Bonus – 3%-5% commission on seven "generations", with dynamic compression
Infinity Bonus – up to 3% commission on even deeper levels
AND THERE ARE MORE!
Are You Curious?
To Learn More About uVme and How You Can Join Our Pre-Launch, Simply Fill In Your Details Below.
After filling in the form you will be automatically redirected to the main uVme website where you can pre-register for free. Your contact information will NEVER be shared.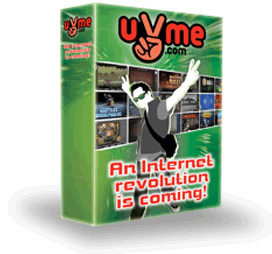 Get AHEAD of the GAME before the GAMES GO LIVE! Join Today!
(fill in the form above to join for free today)